Yay, another mix-and-match Greenlight-centric bundle from Groupees! It has been almost a month since the last, so I guess another was due. Maybe. Probably. Anyway, the lineup – like its precursor – is certainly interesting, if relatively unknown (to me, at least).
Alright, $1 for four games, the price goes up with each additional title added, and all eight will set ya back a grand total of $2; or more, if you're feeling generous, ya know? Once unlocked, three bonus extras will be included, the first of which is the Android version of Deity Quest. Neat, eh? Also, be sure to vote, or else… OR ELSE!
Attractio (Windows, Linux – Desura) Greenlight
Attractio is an indie first-person puzzle game developed with the GC Engine (GameCoder Studios' in-house engine) where the player has to solve challenging puzzles manipulating gravity. These puzzles challenge the usual way of thinking about physics and gravity. In Attractio each object has its own gravity direction which can be changed by the player.
Tallowmere (Windows, Mac, Linux – DRM-free) Greenlight
Tallowmere is a 2D indie action "procedural death labyrinth" roguelike platformer featuring randomly-generated levels, enemies, weapons, gore, and permadeath. You can take a few hits, but make a deadly mistake and you're done. Learn how things work and you'll hopefully make it farther next time. Tallowmere features a high-score system so you can track your greatest efforts.
Wooden Floor (Windows – Desura) Greenlight
Wooden Floor is a horror game inside an old house that seems normal but the further you progress into the game you start to realize that rooms change if you close a door behind you and whole corridors appear out of nowhere. Not being able to predict what is going to happen next or where you are heading for you need to make your way through the increasingly maze-like becoming house to find a way out of this bad dream that you just woke up into. The only thing that goes with you is the wooden floor underneath your feet.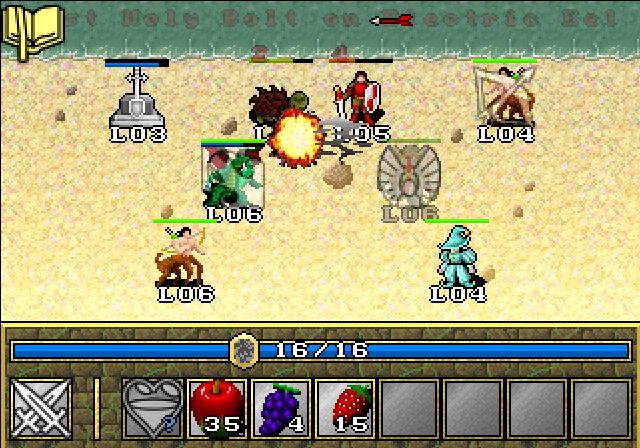 Deity Quest (Windows, Mac, Linux – Desura, DRM-free) Greenlight
Deity Quest is a light-hearted, pokemon-inspired RPG where you play as an ambitious young god, recently assigned to a world – Aberos – to convert followers and gain power. Your goal is to become the Overgod, the highest position among the many gods of Aberos. Develop your divine magic, support your followers in fast-paced 6 vs. 6 battles, adventure through locations, and compete with other deities in your quest to reach the top!
inSynch (Windows, Mac, Linux – DRM-free) Greenlight
inSynch is an intriguing game, in-between rhythm game and musical instrument. Acting while being acted upon, the players follow the score they compose, expressing their intent and making sense of the music born from their actions.
Urban War Defense (Windows, Mac, Linux – Desura) Greenlight
Lead through a action packed fast paced tower defense game with a story of an invasion on your homeland by a large foreign force and as a newly appointed commander do what you can to help your country fight back and defend against this enemy force which is approaching from the country side deep into the populated cities of your home land!
The Tiny Tale 2 (Windows, Mac – DRM-free) Greenlight
The Tiny Tale 2 is a great builder/strategy game for causal players. Travel through the Elven kingdom with your Shaman and his fellow gremlins. Your goal is to solve each level in the fastest time possible (try beating our developer times) by commanding your crew of Gremlins and the Shaman.
Siralim (Windows – DRM-free) Greenlight
You are the king (or queen!) of the thriving kingdom of Siralim. It is your duty to protect your kingdom and its people from the dangers lurking beyond your castle's walls. Summon hundreds of unique creatures to fight by your side as you adventure through randomly generated dungeons and complete randomly generated quests. Find rare treasure and use it to upgrade your castle, empower your creatures, learn new spells, and much more.
You've got 6 days and 21 hours to pick up Groupees' Build A Greenlight 7 before it's gone… forever!